Warfare is a multiplayer mode in Modern Combat 4: Zero Hour.
Modern Combat 4: Zero Hour
Edit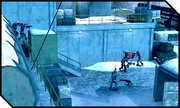 Warfare works almost the same as Zone Control, only the zones have bonus effects.
Communications relay
Edit
Reduces the points/kills needed to call military support by 1.
Supply depot
Edit
When a team has control of the supply depot, the other team instantly gets the half of their ammo.
Radar station
Edit
As long as there is a player in the zone, the whole team can see enemies on their radar.
Ad blocker interference detected!
Wikia is a free-to-use site that makes money from advertising. We have a modified experience for viewers using ad blockers

Wikia is not accessible if you've made further modifications. Remove the custom ad blocker rule(s) and the page will load as expected.