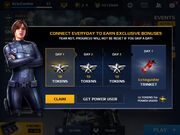 Yesterday Gameloft released an unnamed update for Modern Combat 5: Blackout.
Content
Trinkets: small accessories available to hang on pro weapons.

Extinguisher
Origami Crane
Sandstorm
Clown Shoes
Gladius
New masks

Sandstorm
The Jester
Preatorian
New camos

Vulcan
Carnivale
Legio Aeternam
Sandstorm
[Some new flag camos]
Daily rewards: come back every day to earn "tokens" (with which you can buy supply packs) or trinkets. This will not be reset when skipped. See also User:Ysbert/daily reward.
4 new killsigns
The content will not be available immediately, but will unlock by events. However TCD Gaming has a glitch that enables him to use all content in the update. Check out the link for images.
Problems
Gameloft is aware of server lag and will fix the problem "ASAP".
Ad blocker interference detected!
Wikia is a free-to-use site that makes money from advertising. We have a modified experience for viewers using ad blockers

Wikia is not accessible if you've made further modifications. Remove the custom ad blocker rule(s) and the page will load as expected.