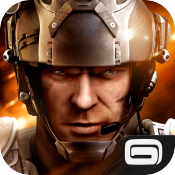 That was unexpected. Gameloft just released a massive update for Modern Combat 5: Blackout.
MC5 is now a free to play game. People who already bought the game don't have to recharge energy to fight again, while newbies can get their energy by waiting or watching videos.
This update adds
controller support
a new weapon class with six new light machine guns
a Tier 6 weapon for each class
a new gamemode: Zone Control
weapon camos for golden weapons
new masks
new killsigns
For all information about the update, see Spring Update.
Ad blocker interference detected!
Wikia is a free-to-use site that makes money from advertising. We have a modified experience for viewers using ad blockers

Wikia is not accessible if you've made further modifications. Remove the custom ad blocker rule(s) and the page will load as expected.