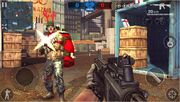 Hey everyone! The next MC5 "Holiday" update is live!
Controller support
The update will bring support for MFi controllers. This means, for players with iOS 7 or higher, you can play with controllers specially designed for iOS.
More information about iOS game controllers • More information about MFi
New maps
The update will contain two new maps: Overtime and Scramble. It is unknown if these maps will be the same (Alert underwent a big change between MC3 and MC4), so that will still be a small surprise.
I'm very happy with the first map update, since the low amount of maps was a big drawback for me, and many other players. Scramble is my favourite map in the whole series, and I'm very exited to replay it in a new MC game. Personally, I think it's impossible to make the map better than in MC3, but we'll see.
Masks
Masks will be a new way to customise your character. There has been a contest on the Modern Combat Facebook page. The winning drawings will be added to the game, plus some others.
Vote for next match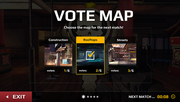 Players will be able to vote for the map in the next match. Obviously, the map with the most votes will be chosen by the server.
This will be a big change, and will make an end to the diversion of battlefields in a single gaming session.
Leagues
Multiplayer Solo and Squad leagues will categorise players in their own league. The best players will reach the Diamond league. This concept is similar to e.g. the Flashpoint leagues in Call of Duty: Strike Team.
In addition, Gameloft mentions "Squad Revenge".
New Skills
Each class will get a new skill.
Other
More player levels. (Unknown how many)
Anti-hacking
Gameloft also mentions a "new hacks prevention system".

If you have questions, I think Ijeremy5252 is the best person to ask them to. But of course, leave your comments below!
Ad blocker interference detected!
Wikia is a free-to-use site that makes money from advertising. We have a modified experience for viewers using ad blockers

Wikia is not accessible if you've made further modifications. Remove the custom ad blocker rule(s) and the page will load as expected.