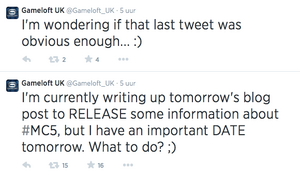 After a year of waiting, the release date of Modern Combat 5: Blackout will likely be released tomorrow around 10:00 BST (12:00 UTC) on the Gameloft blog (http://blog.gameloft.com/ or http://blog.gameloft.com/uk/).
What date do you think it will be? Write your prediction in the comments and let's see who gets close!
Ad blocker interference detected!
Wikia is a free-to-use site that makes money from advertising. We have a modified experience for viewers using ad blockers

Wikia is not accessible if you've made further modifications. Remove the custom ad blocker rule(s) and the page will load as expected.