Why do people care so much about their Kill/Death ratio? Seriously? Kill/Death ratio is irrelevant. All its showing is your Kill/Death ratio, and yet some people care so much about having their Kill/Death ratio ridonkulously high so they can join elite squads and brag about it to their friends.
Back when Modern Combat 5: Blackout was my main Modern Combat to play (which was when it was still a paid game), I got kicked out and refused by SOOOO many squads because they said my Kill/Death ratio of 1.3 was so low.
That is just outright stupid. Judging a player by their Kill/Death ratio is one-sided, incorrect, and plain dumb! Why would you judge a player based on how many more kills they have over deaths or vice versa?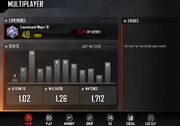 Look at my stats on
MC4
. They aren't even remotely impressive. And I don't give a crap. Why? Because I think that K/D doesn't represent the type of player you are. If I would have just broken out the
Scrubpakt-665
, I would have a 2 K/D ratio. But I'm not a tryhard, so I go with the
UFIA PSD-2
,
R780
,
Black Mamba
, or some other type of unpopular or unconventional firearm.
Not to even mention the number of players on other shooters that only judge other players by Kill/Death ratio. (Call of Duty, anyone?)
In short, judging someone by their Kill/Death ratio is opinionated, one-sided, and plain incorrect. All your Kill/Death ratio is doing to players is making them paranoid about dying too much, and so most of the time they run the n00biest classes on MC4, like a Scrupbakt with a noobtube and incendiary grenades and the Demolition specialisation. The #1 on the Modern Combat 4 leaderboard, J20_China, is a complete noob. I've played with him before, so many times. And all he does is rock the Scrubpakt with a noobtube.
Ad blocker interference detected!
Wikia is a free-to-use site that makes money from advertising. We have a modified experience for viewers using ad blockers

Wikia is not accessible if you've made further modifications. Remove the custom ad blocker rule(s) and the page will load as expected.