I'm making it simple here. I do not use this class often at all. I use this class 1 out of 10 times. This class, is designed specifically to take down the tryhard generation that has swarmed and conquered Modern Combat 4. This is my response to these people. I will only use this class if everyone on the other team is tryharding and boosting. I am not a fan of this weapon, I utterly despise this weapon, but my shotgun-aiming skills will assist me. Anyway, here is my super anti-tryhard class: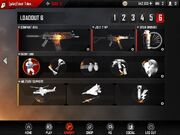 If you ever run into me on MC4, I am not using this class. If everyone on the other team are using skilled weapons like the KR-200 or the SOCAR, I will never use this class. If everyone is sniping, I will too. But here is my commitment to you: I will ALWAYS use this class against aimbot tryhards and give them a taste of their poison.
Ad blocker interference detected!
Wikia is a free-to-use site that makes money from advertising. We have a modified experience for viewers using ad blockers

Wikia is not accessible if you've made further modifications. Remove the custom ad blocker rule(s) and the page will load as expected.