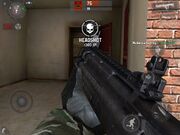 My third nuke on Modern Combat 3: Fallen Nation playing Team Battle on Recon, running my favourite MC3 shotgun, the Defiler. The nuke was completed in more or less around three minutes, which is my fastest nuke, even besting my OPS55 nuke on Scramble, which was completed in a 3:44. This one's for the records.
YEAH!
Ad blocker interference detected!
Wikia is a free-to-use site that makes money from advertising. We have a modified experience for viewers using ad blockers

Wikia is not accessible if you've made further modifications. Remove the custom ad blocker rule(s) and the page will load as expected.