Squads are a feature in Modern Combat 5: Blackout which are the equivalent of "clans" in other online multiplayer video games. Squads allow a group of players to form a dedicated team and compete against other player in Squad Battles.
Players can either join an existing squad or create their own squad. When a player first creates his own squad, he has the option to choose the squad's name, logo design, and logo color. Squad members also receive their own Squad Wall for posting bulletin messages and their own private Squad Chat.
There are 3 options available which can be selected regarding member recruitment:
Invitation Only - Players may only join the squad upon being invited
Request Only - Players may apply to join the squad, and the request must be approved by the Squad leader
Open - Anyone can join; the Squad has the option to set a minimum player Rating requirement
After the completion of a Squad Battle, the Squad receives a cumulative Rating score (either positive or negative) based on the performance of the Squad members. Squad Ratings are held in the Squad's League, which is separate from the Soldier's League where individual players' Ratings are held from standard multiplayer matches.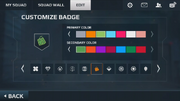 Squad Perks
Edit
Squads in Blackout receive a level progression system like that of individual players ranging from level 0-10. Squad level is increased by accumulating XP earned in Squad Battles. With each increase in a Squad's level, a new perk is unlocked for all members of the squad:
Battle Ready: Squad members gain 1x random blueprint for a weapon between Tiers 2-4, each time a member purchases a 5X Combat Pack offer
Regular Customers: +10% XP income at the end of Multiplayer matches
Platoon: Squad members limit increased by 5
Eventful: +5% Event Score income
Vanguards: +10% XP income at the end of Multiplayer matches
Battle Ready: Squad members gain 1x random blueprint for a weapon between Tiers 5-7, each time a member purchases any 10X Pack offer
Company: Squad members limit increased by 5
Resourcefulness: +100% Diamond Dust received at the end of Multiplayer Matches
Daily Deal: +10% Credits awarded when completing Timed Challenges
Finances: +5 Credits awarded by the Daily Reward Timed Challenge
See also
Edit