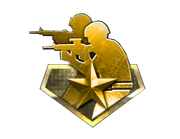 Squad Battle is a multiplayer game mode that appears in Modern Combat 5: Blackout. It is the same as Team Battle, but instead of joining the match alone you join with your squad.
Modern Combat 5: Blackout
Edit
The objective of Squad Battle, like Team Battle, is to kill as many players on the enemy team as possible before the time limit is reached. If the time limit is reached before either team achieves the maximum amount of kills, then the team with the highest amount is declared the victor.
You can have up to six squad members participate in a squad battle, adding up to twelve players total counting the other team. When joining a squad battle, your squad will be connected up with another squad before the game begins.
When choosing squad mates to participate in a squad battle, you will be able to see a list of all of your squad members (up to 20), including if they're online or not. You will also be able to see their multiplayer rating, level, and emblem.
Note: Don't confuse squads with parties. MC5 contains both systems, squads for persistent teams and parties for temporary engagements.
See also
Edit
Ad blocker interference detected!
Wikia is a free-to-use site that makes money from advertising. We have a modified experience for viewers using ad blockers

Wikia is not accessible if you've made further modifications. Remove the custom ad blocker rule(s) and the page will load as expected.