Sergeant Rollins was an allied character in Modern Combat 2: Black Pegasus. He was in Razor Squad, along with McCarthy, Starks, and Anderson.
Modern Combat 2: Black Pegasus
Edit
Rollins was a member of Razor Squad. He went in with Razor Squad during a raid to capture or kill Pablo Al-Banni. It is unknown what happened after the explosion and he was only mentioned in Modern Combat 3 but wasn't seen in the room where Starks and Anderson were being held by the KPR.
Possible Death
Edit
Rollins possibly died from a suicide bomb likely planted by Pablo's language translator, during the invasion of Pablo's palace. The explosion occurred when Rollins was holding the translator hostage, just moments after Anderson left them to pursue Pablo. Anderson was nearly killed himself, but managed to escape with only temporary injuries.
See also
Edit
Modern Combat 3: Fallen Nation
Edit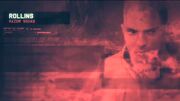 Rollins' name is seen in a split second in the briefing video before the Razor Squad rescue mission: Hostile Territories.