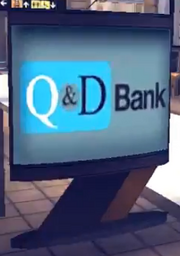 The Q&D Bank is a bank that appears in Modern Combat 4: Zero Hour. Advertisments for the bank can be found frequently in cities such as Seattle and Barcelona. Their appearance worldwide suggests that they are a major corporation.
There is no detailed information about this firm. It has yet to be spotted in another game, meaning it is likely unique to the MC4 world.
Ad blocker interference detected!
Wikia is a free-to-use site that makes money from advertising. We have a modified experience for viewers using ad blockers

Wikia is not accessible if you've made further modifications. Remove the custom ad blocker rule(s) and the page will load as expected.