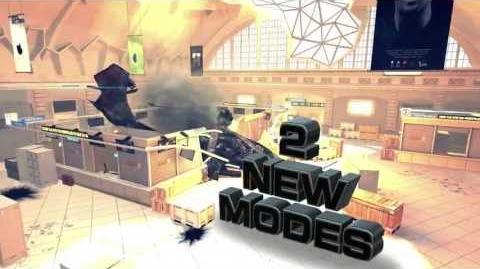 The Meltdown Update is the second downloadable content pack for Modern Combat 4: Zero Hour. It was released June 19, 2013 for iOS, and June 26, 2013 for Android devices.
Meltdown contains three multiplayer maps which include Fracture, Extraction, and Backfire. It also includes a new Demolition Specialization with seven new Perks (Ammo Pack, Dedication, Readied Shot, One Last Thing, Gun Expert, Sentry, Paragon Destroyer), and two new weapons, SFS CTK-12, a sniper rifle, and the 40mm Thor GLP, a grenade launching pistol. This DLC introduced two new multiplayer modes, Bomb Squad, and Destruction.
"
Barcelona's train station was an important railway hub until the hunt began to track down Saunders's vital information. Now, the station is ravaged by the UAVs sent by the U.S. army and the SGS invasion.
"
—Map description
"
Ready yourself to infiltrate a WMD lab hidden deep inside the high mountains of Antarctica. This laboratory is used to create compounds such as the H5N1 virus. So watch what you're aiming at; you don't want to return home in a box. Be alert, quick and stealthy; the enemy can hide in any corner. Use the multiple corridors to your advantage. Dismissed!
"
—Map description
"
Now that we got Saunders's information, it's time to clean up the city from its SGS occupation. Flank the enemy by sneaking through small alleys and ruined buildings. Some areas offer higher spots for a better view of open locations. Barcelona offers a great urban warfare experience that you do not want to miss.
"
—Map description
Specializations
Edit
"
Experts in the use of explosives, these tough soldiers are capable of stopping an armored tank by themselves. This is an excellent specialization for players who like to lure their enemies into traps. It is also a great specialization to use in Destruction mode.Get +50 XP and credits for performing kills with explosives and grenades.
"
—Specialization description

"
The semi-automatic CTK-12 Special Forces Sniper Rifle is designed to be lightweight and customizable for rapid incapacitation and quick engagement. It can fire high-powered ammunitions such as explosive rounds.
"
—Weapon description

"
The Chralz Technik GmbH Thor 40mm GLP is used by law enforcers to disperse riot mobs. Its compact design makes it perfect for tight spots and increased mobility.
"
—Weapon description
Gamemodes
Edit
"
Pick up the bomb and plant it on the destination to show your power! Once set, don't let the opponent team stop you from setting off your fireworks.
"
—Gamemode description
"
In times of war, distractions can lead to victory! Destroy the opponent team's devices, one after another.
"
—Gamemode description
Ad blocker interference detected!
Wikia is a free-to-use site that makes money from advertising. We have a modified experience for viewers using ad blockers

Wikia is not accessible if you've made further modifications. Remove the custom ad blocker rule(s) and the page will load as expected.