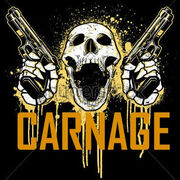 CLÃ  CARNAGE FPS, GRUPO DE JOGADORES PRO SNIPER, FUZILEIROS
° A MAIOR TRAIÇÃO QUE Á NA GUERRA É O SOLDADO MORRER PELA PROPRIA ARMA...
°Clan CNG, ou Clan CARNIFICINA, Grupo de jogadores de FPS Online, jogadores qualificados para combate de clan`s, PVP & Etc...
QUER PARTICIPAR DO CLAN ? FALE CONOSCO E FAÇA UM TESTE
FACEBOOK: CARNAGE FPS
QUER DESAFIAR UM DOS NOSSOS ? ENTRE EM CONTATO !
LIDERES : °SkuLL, Jonatas04
Ad blocker interference detected!
Wikia is a free-to-use site that makes money from advertising. We have a modified experience for viewers using ad blockers

Wikia is not accessible if you've made further modifications. Remove the custom ad blocker rule(s) and the page will load as expected.